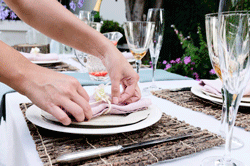 There's nothing more chic than entertaining with ease and seamlessly bringing family and friends together over a great meal at a fashionable table. If you want to be known as an unforgettable host, here are 5 suggestions for entertaining in style to impress guests at your next event:
1. Select a theme: No matter the occasion, selecting a theme and color palette to set the tone and inspire everything from the tablescape to the menu is important.
2. Choose your menu: Create a simple and delicious menu using fresh ingredients to impress your guests.
3. Set the table: To save time, design and set your table the night before your event. The key to creating fresh new tablescapes is versatile, white dinnerware paired with interchangeable, bold linens.
4. Prep and pop: Prep dishes in advance and store them in the fridge before baking and serving. When it's time to bake, pop them in the oven. Selecting bakeware that doesn't require changing dishes for baking, serving and storing helps save time. This time-saver will allow you to greet guests as they arrive and avoid last-minute meal prep.
5. All in the details: Just before guests arrive add vibrant floral arrangements and light candles to set the mood.
Copyright© 2013 RISMedia, The Leader in Real Estate Information Systems and Real Estate News. All Rights Reserved. This material may not be republished without permission from RISMedia.